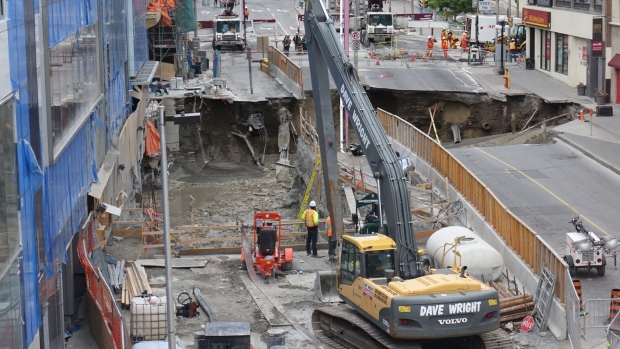 As I'm sure most of you have seen, Ottawa's downtown area businesses have experienced a decline in productivity these past few days after a giant sinkhole has left Rideau Street torn apart.
Fortunately, with the only casualty being an empty van, the sinkhole hasn't caused any injuries.
Businesses in the area, including the Rideau Centre mall, have been temporarily closed due to safety. And, while many have been worried about missing the 2 for 1 deals at the Rideau Centre, I have been thinking about the consequences that a disaster like this can have on businesses affected by a disaster that affects its IT infrastructure.
Whether it's a natural or accidental (or intentional) disaster, any business can unexpectedly find itself in a situation that negatively affects business continuity.
Would your business be able to cope with its physical location being closed for an unknown amount of time?
Would it be able to overcome IT equipment or data damage?
Would you have the support you need to get back on your feet?
Luckily IntelliSyn has the solutions for all of these business-at-stake IT questions!
Firstly, IntelliOffice allows you to get your business' IT up and running fast with an end-to-end, turnkey network in a box so that you're safe before, during, and after any type of disaster. You get installation, ongoing management, maintenance, and support for all hardware, software, and cloud networking elements to keep your business running efficiently, no matter what.
But if something does happen, IntelliServer has you covered when you're worried about losing any important business data or documents. IntelliServer provides hosting and co-location services in state-of-the-art facilities that are backed by complete network administration, maintenance, and reporting. It keeps all of your important business information and data on a hybrid cloud so that you will never lose anything. And you can access what you need at any time, even if your business location is closed!
Also, IntelliTalk makes sure your phone system and communications to your clients and suppliers stay open. No matter what happens it lets you make calls from anywhere with a single number that is integrated with the system to appear to callers as if your employees are in the office.
And last, but not the least important, IntelliSupport makes sure that you will never go without the IT infrastructure management and maintenance you need. We provide desktop-to-cloud management and complete help desk technical support so that you won't be left to scramble on your own any day of the year, any time of the day.
IntelliSyn has you covered no matter what happens to your business, and no matter where or when—even if your physical location falls into a sinkhole.
Don't let random disasters like Ottawa's sinkhole, or even a coffee spill on a keyboard, have an effect on how you run your business.
Contact us today if you have any questions about our services or if you want to secure your business!
Chris Stratton