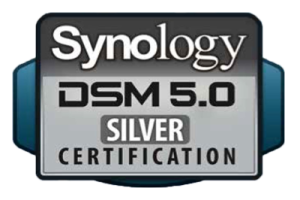 We are!
After a lot of hard work and dedication, we are proud to be a Synology Silver Certified partner — and as of right now, we are the first and only Canadian firm to achieve the status!
What does this mean for you?
As a Synology Silver Certified partner, we can now provide you with the best solutions for your business IT system requirements — to an even greater extent than before!
With Synology, we are able to more effectively:
1)      Narrow down the most ideal solution for your IT hardware needs easier and faster.
2)      Ensure that your critical business data is stored more safely, and backups are done more effectively.
3)      Have access to specialized tools built by Synology that will help us answer your questions quickly and efficiently.
We look forward to all of the benefits of being a Synology Silver Certified partner and bringing you, our current and future clients, these benefits as well.